【Unlimited drinks on weekdays ♪】 4 people ~ ★ 30 cocktails included! [OK plan on the day]
Course details
【Unlimited drinks on weekdays ♪】 4 people ~ ★ 30 cocktails included! [OK plan on the day]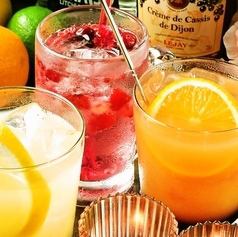 All-you-can-drink available

■ various choice of all-you-can-drink plan ■
Reservation deadline

Coming to the store until the day 15 of the desired date
Available days for reservation

Monday - Thursday and Sunday
【Reservation unnecessary ♪】 If you can tell the staff when visiting or sitting OK ♪ All you can drink up to 3.5 hours until closing LO (23: 30) at the entrance after 20 o'clock! Although the number of people is from 4 people ♪ Please contact us for less than 4 people in consultation ♪ (In that case please contact us ♪ (There are also cases that you can not accept the change of the number ※.In that case I am sorry, please understand.)
Course menu
★ + \ 500 Add all sparkling wine drinks to each of the above plans!
★ + \ 500, you can put a panpurin with your favorite cake / + \ 300.
"Party for example," a year-end party, welcome party, farewell party, celebration, such as birthday,
Surprise party, wedding 2 next meeting, reunion, company banquets,
Various launch, off meeting, also we will correspond to a collection such as all-party seminar and circle.
All-you-can-drink menu
- [980 yen plan]
· 【The premium · molts all-you-can-eat plan】 The Premium · Mortz / Beam High / Mild angle D High / Sour / Angle / Ballantine Finest / Jim Beam White / Soft Drink
- [1480 yen plan]
· 【Deluxe Drink All-you-can-Element Plan】 Additional Chita / Maker's Mark / Chita Wind-scenting High Bowl / Glass of Wine (Red · White) / Lambrusco (Microfoamed Red · Glass) / Sangria (Red · White) / Plum wine / Wanko (wheat) / Gin tonic / Moscommeureur
- [980 yen plan]
· 【Cocktail Drink All-you-can-Grande】 Sangria (Red · White) / 12 cocktails / Sour / Beam High / Mild Angle D High / Plum wine / Wanko (wheat) / Glass wine (Red · White) / Lambrusco (Microfoamed Red · Glass) / Soft drink
· 【Cocktail Drink All-you-can-Element Plan】 +300 yen adds · The · premium · malt drink as much as you want
· ★ dessert plan ★
· [Suites is another belly! Dessert plan] pudding that melts in your favorite cake or +300 yen +500 yen
2018/09/28 update